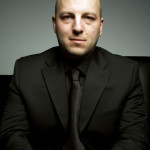 Tim Gerwing is a Vancouver, Canada based musician and producer. He has performed music from his albums in Japan, Russia, the UK, and Canada.
In addition to his electronic music work, he is a regular percussionist with Gord Grdina's Haram and The Serwan Yamolky Trio.
He is co-founder of the 30 Days Project.
For a detailed bio, please visit www.lascaux21.com/bio.html
To purchase music by Tim Gerwing, visit the LASCAUX21 Music Store.