La Younsa, "Not Forgotten", a new and unique world music album featuring master oud player Serwan Yamolky.

Musicians:
Serwan Yamolky: oud, voice, poetry
Liam MacDonald: riq, percussion
Tim Gerwing: darbuka, percussion

Guests:
Francois Houle: clarinet
Eyvind Kang: violin
Wasan Al Samarai: voice

The Serwan Yamolky Trio performs traditional Arabic music while fusing modern elements of improvisation and composition. The group has been performing together since 2009 with Serwan Yamolky on vocals and Oud (Middle Eastern Lute), Liam MacDonald on Riq (Arabic tambourine), and Tim Gerwing on Darbuka (ceramic hand drum). The group has recently finished recording their new album "La Younsa", Arabic for "Not Forgotten". Along with the trio the new album also features special guests Francois Houle on Clarinet and Eyvind Kang on violin.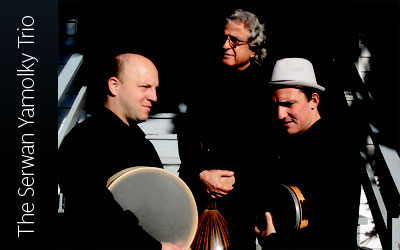 Serwan Yamolky
Serwan Yamolky was born in Kurdistan, northern Iraq, in the city of Sulaymanya in 1945.
In 1967 he was one of the first members of the Iraqi Music Council as a composer. While living in Baghdad he studied and frequently performed with master oud player Jamil Bashir (as a contrabass player) and with Jamil Salim (as an oud player).
In 2004, Serwan was invited by the Vancouver Symphony Orchestra and the Vancouver Association to perform for the Dalai Lama at the Orpheum. Other performances of note include appearing with the Silk Road Ensemble and the Vancouver Inter Cultural Orchestra. He has been a regular participant (2001 through 2009) in the Multi-Disciplinary Avant Garde event ANU.
Serwan performs regularly in Canada and Europe, and has also released 2 books of poetry, from which he does public readings.

www.serwanyamolky.ca
Liam MacDonald
Since Liam MacDonald relocated to Vancouver in 1997 he has been equally in demand for his Drumset playing as well as his abilities as a multi-percussionist. Although Liams quest for new sounds and rhythms from around the world is ongoing, his primary focus has been that of Middle Eastern Frame Drums and Afro Brasilian Percussion. Due to Liams versatility as a percussionist it has led him to perform and tour extensively throughout The United States, Europe and Canada.

www.liammacdonaldmusic.com
Tim Gerwing
Tim Gerwing is a Vancouver, Canada, based musician and producer, also specializing in Middle Eastern percussion. A former student of Adel Awad and Boris Sichon of Vancouver, Tim has also studied with Hossam Ramzy and Farouk Safi in London, UK.
Tim's London experiences were also educational, teaching workshops in drumming and dance, as well as playing for classes in the Greater London area with performers of various styles of belly, Oriental, and tribal dance.
He is a regular member of Gord Grdina's Haram and plays with Arabic musicians and dancers in the Vancouver area.

www.lascaux21.com