"Scorpius Rising", Tim Gerwing's 5th studio album, this is Music for the Inner Listener 5.
Scorpius Rising takes listeners on an auditory odyssey through the twists and turns of ambient, electronic, and Arabic-influenced music.
"I've been working on some of this music for years, rediscovering and reworking it, and it's been a very revealing insight into my own creative process over the course of time. I always find it interesting when I don't even remember playing certain things, or when I try to repeat them and I just can't. My process is very much in the moment and of the moment, and yet it's all tied together thematically by my personal and artistic research and development. I very much hope you enjoy listening to this collection of music as much as I did making it." - TG
Tim Gerwing releases his fifth studio album, Scorpius Rising, November 20th 2013
Ambient/Electronic/World Music journey of personal awakening now available on iTunes, Emusic, Amazon, CD Baby and more
VANCOUVER, BC, November 20, 2013: Tim Gerwing, a fixture in Vancouver's ambient and world music scene, today announces the release of his fifth studio LP, Scorpius Rising. The culmination of Tim's personal and musical explorative awakenings, Scorpius Rising takes listeners on an auditory odyssey through the twists and turns of ambient, electronic, and Arabic-influenced music.
"I am a humanist," says Gerwing. "I don't really like relying on a computer program for ideas or execution. I try to frame electronic music as a human rather than mechanical experience by playing my instruments as honestly as possible. Scorpius Rising offers listeners the opportunity to take on the role of co-creator, providing a sort of inner canvas upon which to paint their emotional, psychological, and other responses."
Always one to favour intense introspection over reckless extroversion, Gerwing has long been fascinated by Middle and Far Eastern philosophies. Scorpius Rising is an exploration of these intellectual, artistic, and spiritual pursuits, inviting listeners to delve into their own hearts and minds to find the profound within the mundane. Working to blur boundaries between ethereal and material dimensions, Gerwing reaches across geographical and cultural boundaries towards this musical and philosophical milieu in order to create a sense of magic in the face of increasingly mass-manufactured music.
"Scorpius Rising is a markedly different body of work than my previous albums, namely my last two major releases Chikatetsu (2009) and Masked and Dreaming (2011)," says Gerwing. "While Chikatetsu explores the relationship between the individual and our rapidly changing world, and Masked and Dreaming weaves an auditory tapestry based in dream theory and the unconscious, Scorpius Rising focuses on my own personal journey towards becoming a more open, aware, engaged, and loving person. I hope to take listeners on a similar journey."
While the large majority of the music flowed from his fingers alone, the album was given additional breadth with the input of Serwan Yamolky, Iraqi poet and oud player, Liam MacDonald, percussionist with Gord Grdina and Haram, and Basim Saleem Ghlayem, Kuwaiti violinist.
Scorpius Rising is available through a number of digital and physical retailers. See below for purchase options.
Reviews
Want to have a preview? Check out this SoundCloud clip:
Click here to hear short samples of each track on iTunes
Full Track Listing
Scorpius Rising
Georgina
Facing Scorpio: 32°59'23"N, 8°49'2"E
Scorpius in Virgo
Big Sky
Potato Flower
Brief Eye Contact with the Shaman
On the Way to You
Blossom
Love Song
Tetsugaku no Michi
Marchons, les Amis
The Return
Still Life: Candle and Night Sky
Visuals
1. Cover: click to enlarge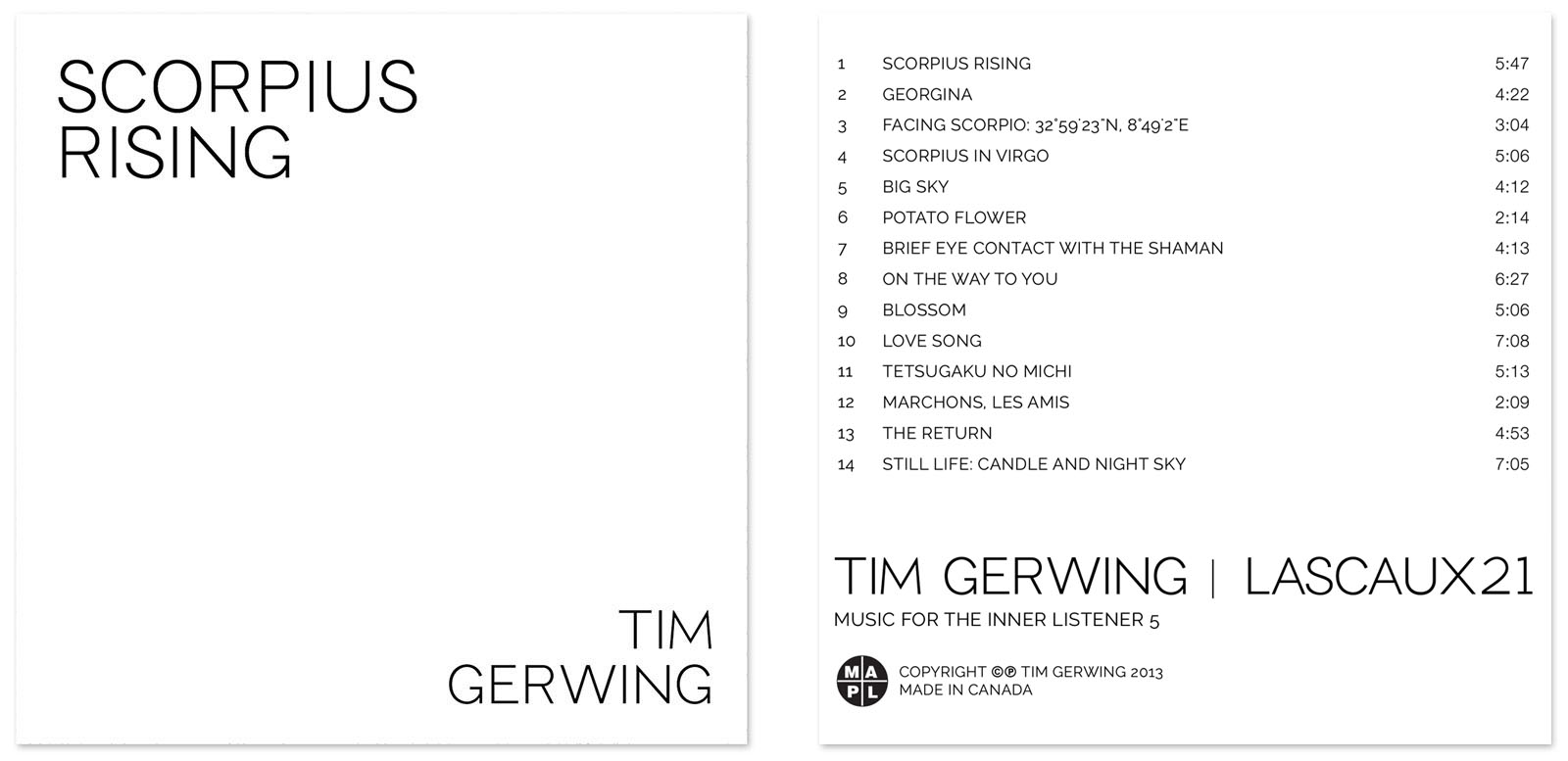 About the product: This is a no-plastic 'green' packaging product featuring 100% recyclable content. It is printed using waterless technology and environmentally-friendly inks. Made in Canada.
2. Liner Notes (PDF)
Purchase Options